Services
Mediascape provides a full range of services for innovative communication solutions. For more than two decades we have advanced the art and science of live and Internet based presentations, and continue to deliver uniquely effective designs and products. Our range of services can begin at any of several stages in your project. We can help implement an existing creative plan, or start from a clean slate with our creative services. Our design and engineering skills are the product of hundreds of productions that contribute to our experience in the development of creative, interactive software applications and Internet based communications protocols. Where applicable, we also work with the area's most talented producers, writers and directors to achieve your messaging goals. Our relationships with Video and Audio post houses allow us to  coordinate with all facets of a project. We have worked effectively for years as a supplement in house services, and with other client specified vendors to ensure the dependable implementation and delivery of your project.
About Us
Mediascape is a Digital Media service provider located in Berkley Michigan. Since 1992 we have been leading the way in artistic and technically advanced, digital media solutions. We support business communications producers and agencies with products and services that include:
Web application development, especially data driven, content managed and streaming video sites.
Custom software for interactive exhibits.
Mobile application development for iOS and Android devices.
Social Media management for events and meetings.
Mediascape provides the capabilities and resources of accomplished programmers, and talented artists and designers for support of all facets of multimedia communication. Mediascape has delivered a wide spectrum of products for more than two decades, including:
Creative hardware and software solutions for interactive displays and exhibits.
Web based applications with database management, security, and related Web services including hosting, media encoding and streaming with synchronized graphics.
Support for on site productions and show control for hundreds of shows and meetings.
Innovations with mobile devices and social media.
Gesture based interfaces.
Augmented reality, virtual reality and immersive displays.
Mediascape is known for both fast and cost effective solutions from our substantial portfolio, and the ability to develop original ideas and solutions whenever needed.
Surround Sharing
Another Mediascape development brings 360 video to social media, with the ability for immediate uploads, and live streaming, of full 360 HD video. Our integrated system provides a compact 360 camera that can capture and stitch viewpoints of multiple lenses in real time, and deliver the video to a portable host over wired and wireless connections.
Each captured video can be moderated and transferred to a social media service within seconds of its capture. After introducing immediate video uploads of interactive experiences to social media a decade ago,  we look forward to showing you our literal broadening of this horizon with this new effect.
Being There
Being There
With years of VR production experience, Mediascape now provides VR services for interior design and space planning. Our VRTours allow highly detailed pre-visualization of dimensions, decor, and fully immersive explorations of structural and material alternatives.
Accurate Virtual Reality tours are more accessible than ever with our conversion system. In our process, designs produced in nearly any 2D or 3D format can be transformed into realistic, live tours. Views of industrial and residential architectural plans, and other designs still in the realm of imagination, can be previewed and experienced as if you're inside.
Full realism is available during dynamic motion, controlled on your desktop, or by the orientation of your mobile device, and touch points. Additionally, our system allows colors, materials, and fixtures to be replaced in the live model, allowing instant A/B comparisons and design explorations. This allows various choices during a life-like simulation of your proposed environment.
Bring your 2D or 3D CAD plans, in any popular format, to experience a detailed simulation of the interior of your proposed structure, with accurate materials, lighting and shadows. Ahead of any physical construction, before it exists, you can virtually be there.
Making an Impact
Making an Impact
At Ford's 2016 NAIAS Behind the Blue Oval presentation, the press got a look at the protection of the Corning Gorilla® Glass in Ford windows by standing behind a sheet, while a hydraulic cannon shot an ice ball at them.
To capture the moment, Mediascape worked with Gail & Rice to develop a suite of applications to record the clip at high speed, convert it to slow motion, and upload it to a gallery for sharing within a minute or two after impact. A remote trigger starts the process that begins with high speed video capture of the ice cannon shot then, upon completion, brands and uploads it to our on-site Web gallery, with pre-populated links to email and social sites for each clip.
There visitors can immediately play the experience again, and easily send it to social media to share their slow motion surprise.
AR at Ford Field
AR at Ford Field
Mediascape continues to introduce advanced techniques for attractions that engage event visitors, and endure in social media. One of our recent installations allows visitors at Xperience's Ford F150 display at Ford Field to appear, with friends and family, wearing a virtual 3D Lions helmet that fits and tracks them in real time, (without messing up their hair).
The system presents the live, augmented reality preview on a big screen, and allows a photo to be grabbed at any time. The photo is then instantly delivered with branding to be shared on social media. This is just one of the recent productions that leverages our extensive foundation of visitor tracking and real time 3D effects for novel and memorable audience engagements.
Natural Gestures
Natural Gestures
Effortless interaction is one of the hallmarks of our gesture based displays. Along with their ability to recognize and attract casual observers, our displays present fluid and elegant effects in real time that surprise and engage.
Moderated Social Media
Everyone can get into the act at big announcement events. That is, as long as they're civil. Our Social Media management system allows Press and other on-site visitors, along with participants around the world to present live comments at events, while filtering the inapplicable.
Our application has evolved since its first use at the Fiesta Movement event at the 2009 Los Angeles auto show. Since then our social media tools have been used at other highly anticipated product reveals and other public events.
Our harvester gathers all relevant social media posts, based on specified key words, and assembles them into a moderator's interface. The fluid controls of the interface allow a large volume of messages to be manually interpreted and selected quickly, while automated features can exclude certain content. With a single click, approved messages are passed to our customizable animated player, allowing almost instantaneous results for entries from the show floor. The player allows a select maximum of messages to cycle in a scrolling animation, where later messages age out as new ones arrive, still preserving the public decency.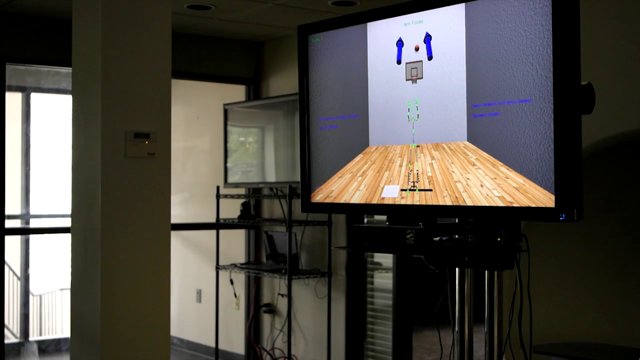 Kinect Games
Kinect Games
We've been working with depths sensing cameras for years. When Microsoft bought them to the public, we leveraged the Kinect as soon as it was released. We're just scratching the surface of what's possible with them, but here are a few examples.
Beacon in the night and day
iBeacons provide an ideal method for locating visitors, both outside and even inside of buildings. With this micro-location resource, now featured in Apple stores and several MLB stadiums, we can configure an iBeacon system in permanent or temporary exhibits that can provide location aware information to a visitor's iPhone, iPad and soon their Android device, and deliver up to the minute details on everything relevant to their current position, as well as graphical directions to their next recommended location.
Green Screen with Gestures
Green Screen with Gestures
For one of Gail & Rice's 2014 NY auto show events for Ford, we developed a gesture based chroma key system for the Mustang 50th at the Empire State Building. That event highlighted the return of the Mustang to the observation deck on which it was introduced 50 years ago. The visitor controlled system let journalists at a press reception that night appear to pose with the car on the observation deck with background images taken that morning. Since it was gesture controlled, they could operate it from a far enough distance to fit in at the right scale.
A short clip shows our setup tech sliding in a couple of background choices,  and pushing his hand forward to take the picture, then immediately finding it on a nearby sharing station, where it was emailed, and sent to social media sites of choice.
Photo Booth to Go
Photo Booth to Go
A user driven, Web connected photo booth allows visitors to the Palace to capture themselves in a new Mazda at any Palace event. This mobile photo booth is provided by an iPad and our custom application, which can be attached to the windshield of any model car. Upon entry to the car, the visitor sees the introductory screen, and the instruction to simply touch anywhere to initiate the camera, then touch again to start a countdown to their portrait. They're then immediately presented with the preview and the prompt to email themselves the link to the image, which includes options to share it with all of their social media accounts.
Mastering your Domain
Mastering your Domain
The mass communication allowed by managed social sites like Facebook can be a great catalyst. The ability to broadcast messages, post events, share media and participate in discussions has countless relationship and project management benefits. It's all quite convenient, but has the significant, irrevocable consequence of surrendering your content to a 3rd party. All those features are possible in a privately managed system over which you have full authority.
Our Social Web site framework allows you to use any domain you specify to host group communication features like Facebook's, and that of other blogging sites. You can pre-specify, or invite a limited set of members, for any period of time, or allow public requests for membership with automatic, or moderated approvals. This service allows you to broadcast and discuss information with an approved population without intrusion of advertisements or any 3rd party analysis of your content. Submit the request to join a sample site at mediascapesocial.com.
Maximum WiFi
Maximum WiFi
If you're hosting a gathering, spanning nearly 50,000 square feet, for thousands of visitors, each with one or more Internet chugging device, you'll need a lot of far reaching bandwidth. To provide that for Gail & Rice's production of Ford's NAIAS 2014 Behind the Blue Oval press event, we installed a high performance mesh of WiFi access points that we integrated with the hall's public uplink.
Our mesh architecture, with real time monitoring, balanced loads between access points to cope with concentrated areas of traffic, and provided 100s of users per access point, throughput of more than 500Mbs per device. Access points then linked to Cobo Hall's high capacity, fiber based connection to the public Internet. That gave everyone all the signal strength and throughput they could use, adding "most robust WiFi in the building" to the other attractions of this event.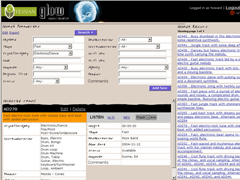 Web based Asset Management
Web based Asset Management
All the possibile critera for selecting assets from vast libraries
From the Web based asset search and management tools for Yessian Music's original Dragon Licks database framework back in 2002, to today's media management database for Pepsico, we've sliced, diced and delivered media assets with all kinds of criteria, in all kinds of formats.
Privileges can be controlled precisely for assets that can be searched with a range of user defined criteria, for results that can be quickly previewed and downloaded. Uploading and tagging can also be performed per item or in volume. Mountains of media data, when accurately tagged, can be at your finger tips.
3D Projection Mapping
3D Projection Mapping
With years of experience in 3D projection mapping, we've adapted our custom mapping software for many circumstances. One of our latest developments projected images onto the complex curved contours of a Lear car seat for an event at Detroit's Fillmore Theater.
Among other video and touch sensitive displays, and a full theatrical presentation, this interactive Design Your Own Seat displays projected textures onto selected regions of a physical seat, with our mapping software correcting for all the contours.
Our custom iPad application allowed visitors to select textures for each region for wireless, instant transmission onto the seat. If the vast library of provided textures wasn't enough, we also provided another iPad with drawing applications that allowed visitors to create new patterns of their own that were seamlessly added to the library of available textures. The opportunity to see life sized previews of custom designs prompted the question of whether this could be provided at car dealerships, and we see no reason why not.
Mediascape's 3D projection software also took The D award show to the 3rd dimension with projection of the presentation produced by UI's Dan Land and Gabe Hall onto a multi-faceted and angled set of 3D surfaces, in sync with a large over head screen.
Our interactive image warping software allowed us to fit the video to the exact angles of the 3D shapes, immediately after on site assembly, so that all imagery appeared without skewing distortions on the variously angled, target surfaces. While appearing to have multiple sources, the whole 3D display is the product of a single projector.
Judging Performance
Judging Performance
Xperience worked with Ford to invite the public to their local dealership for an event that allowed them to view a singing performance, then record their commentary on it for a chance to participate with the judges on the American Idol TV show.
The event was nationwide, and registration began a month before the day of the event. Under Xperience's direction, we developed the pre-registration sites, the on site registration services, and additional resources for both the dealers and the public.
We also provided a kiosk application that played a Idol candidate's performance for the visitor, then automatically kicked into record mode to capture their reaction. It then immediately uploaded their video response to a repository for the Idol judges to view, with an interface that allowed their votes. Ten's of thousands of videos were captured nationwide, and the collection was almost immediately available, allowing the judges to pick a winner within days.
Life Size Catalog
Life Size Catalog
Lear's vast array of products fills their 5,000 ft. show room. Kiosks and 14 touchscreens all enhance the display of numerous representative products. The kiosks and touchscreens each allow deeper dives into all the facets of their product line. An overarching 80 ft video projection wall also sets the tone for the vast area, with still montages of the many vehicles that use their products, and running footage of them in motion. Mediascape's custom applications drive their kiosks, and provide the blended, continuous imagery for the expansive, curved wall, providing real time warping to adjust for the wall's curvatures. Our content management system allows all their content to be remotely managed and changed by simply uploading new stills, animations, or video to the designated stations as needed.
Full spectrum Web production
Full spectrum Web production
We've been building Web sites since 1995, in all shapes and sizes. We develop original creative and graphics, or work with your designers to achieve the desired look and features. We can leverage every capability offered in current browsers, and contend with with past browser versions and cross platform issues. We animate and interact in HTML5, Flash, JavaScript, Java and more. We stream archived and live video, and provide database, social media, mobile, eCommerce, distance learning, and content management support. We can also link your live event to the Web with Web based registration, on site check in, and Web coverage of live events. We provide cost effective access to every facet of the Web.
Responsive Tracking
Responsive Tracking
Our applications on tablets and smart phones, over standard WiFi, can provide a full spectrum of audience response tools. Along with presentations at the venue, independent messages can be sent to each user's device, with immediate reply compilations. This two way path allows live polls, quizzes, games and collections of other audience responses with instant results.
Broadcasting Badges
Broadcasting Badges
Event attendees can be recognized at distances from inches to yards with our tunable RFID detection systems. With small, passive transmitters that easily adhere to the back of standard badges, you can detect and react to visitors before they even enter the room. Greetings and even full presentations can then be tailored to known attendees.
Chrysler/UAW Teach Wall
Chrysler/UAW Teach Wall
Touch and teach all the pillars of quality manufacturing at the Chrysler/UAW Technical Training Center. This interactive wall provides a 3D interface on a 12′ touch screen to assist instructors in the description of guidelines for World Class Manufacturing to the attending UAW members.
Wall of iPads
When AOL needed a wall of iPads to switch content in sync with a master script, we provided them the iPad array controller, our server and client application that slaves as many iPads as you want, to present all the images and video you've got, at the moment your customizable playlist requests it. Once the iPads are mounted on the wall, there's no need to remove them to change content, since they can all be remotely configured with a Dropbox link. Here are AOL's designs for the promotion of their Maker series.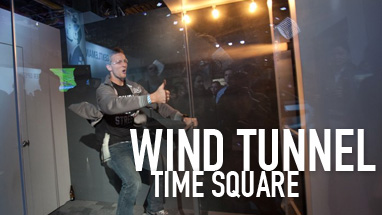 Buick Wind Tunnel at Times Square
Buick Wind Tunnel at Times Square
Step inside the Human Wind Tunnel to find your body's actual coefficient of drag, or just to get your hair messed up. Either way, an image of your air compressed face will get captured as you watch your coefficient change while hunkered down into your most aerodynamic pose. The top ten smoothest of each day appear on the leader board, and your image is made available for you to send to all of your social media sites.
Mobile devices
iPods, iPads and other tablets offer a convenient method to help the press learn about features and specifications in Ford's new models. Interactive quizzes, QR codes and other multimedia content on the provided hand helds, help make the facts understandable and fun.
Build a Spot
Build a Spot
When the resources are there, a 30 second commercial can be a platform for startling, innovative and entertaining messages. Sometimes however, there's no time or money for such an endeavor, so we developed a way for producers to instantly generate a low cost 30 second spot, assembled from a library of elements that only needs your supplied text.
Our Web based application allows you to select the key ingredients of a typical promotion, then compiles all of your specified elements, including photos/art cards, videos, audio and copy, into an efficiently compressed, but full HD quality mp4 that you can download upon completion. Since it's Web based, it allows live collaboration and previews with authorized participants anywhere.
We all appreciate when budgets permit the fortunate co-mingling of art and commerce, but when that's not an option, our Build a Spot application still provides a way to get the word out.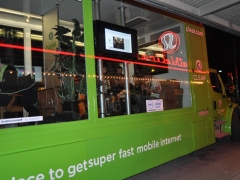 WiMax Mobile Studio
WiMax Mobile Studio
The show on the road
The SXSW festival draws a bigger crowd each year, but it's size doesn't have to stop fans from seeing their favorite musicians and discovering new ones. To enable a huge population of remote viewers, Clearwire Corporation enlisted Jack Morton Worldwide to develop a mobile studio that included their latest 4G WiMax technology to broadcast live performances from inside their truck, without so much as a parking space.
Mediascape worked with Jack Morton Worldwide to develop a live, high capacity Webcast for both a Microsite and embeddable video player for music blog sites. For 3 days, the truck stopped only briefly to allow the musicians to climb on, then drove through town while they performed and interviewed. The real time video streaming equipment and infrastructure provided by Mediascape enabled viewers to see the performances for 6 continuous hours each day, and brought a series of established and emerging artists, from a single wireless card on a moving truck, to tens of thousands of viewers around the world.
Speaker Support
Speaker Support
Mediascape's presentation services group has been a leader in developing and delivering innovative technological solutions for shows and meetings since 1988. Those innovations have included multi screen presentations, the first multiple video wall installation in North America, and today's ground breaking use of interactive media for live shows. Mediascape provides both graphic design, and on site tech support. We continue to develop unique delivery frameworks with graphics, video and interaction, for dramatic, live announcements.
World in the Palm
To promote GM's new Chevy Volt, Mediascape developed iPod based show control for a large, moderated LED wall, along with five interactive touch screen kiosks. The iPod enabled presenters to control the LED with a wireless GUI, and enter zip codes to roam around live views of Google Earth that showed the 40 mile "Green Zone" radius that the Volt reaches on a single charge, as well as launch selected videos. Visitors at each kiosk could also enter their zip codes into Google to roam around their personal Green Zone, and navigate to numerous videos and animations that presented key features and benefits of the car as described by various project leaders.
Simon Says and Max Talks
Simon Says and Max Talks
Memorable Color and a Colorful Character
For the 2009 international auto show circuit we developed a pair of vocal displays for Exhibit Works and VW. The gliding light patterns beckon you to test your memory skills. You start the game by touching any color. You're then challenged to match the sequence of colors and tones in this updated version of the Simon game that displays all the available VW paint colors. The voice of Max coaxes and encourages you as you win each of 11 levels. The vintage Max '66 Beetle is nearby too, and emits various quips as it senses your approach.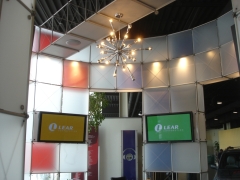 Theater in the Round
Theater in the Round
The big picture in a small space
The vast range of products and services that Lear provides was showcased in this Flash based surround presentation, first at the Detroit SAE show, then at their Southfield Headquarters. Simultaneous, unique animations played, in sync, on each of 6 screens, on light weight playback equipment, timed to a central audio system in a sleek, but portable framework. That sleek and elegant theme was maintained in the illustrative style that displayed 6 Lear branches, then alternated with a shared message on all 6 screens. An artful message contained in a small footprint helped convey both their innovation and cost efficiency.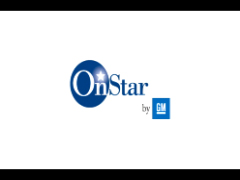 See 3D
See 3D
Long at the forefront of 3D stereo video, Mediascape and Universal Images continue to advance the state of the art with imagery that escapes the 2D surface, without the need for special glasses, using the latest autostereo displays. This depth can be recognized at first glance now as visitors no longer need to stop and apply any eye wear.
OnStar demonstrated their range of services and features with this technology in a presentation produced by MVP Collaborative. Universal Images composed the segments, comprised of CGI and live action, and worked with Mediascape to embed supplementary 3D stereo video information. It was then driven by our custom stereo video control software on the unique display, enabling OnStar product specialists to interactively navigate and narrate the show. This presentation debuted at Detroit's 2008 NAIAS, where it became apparent how easily video presentations can be made to stand out.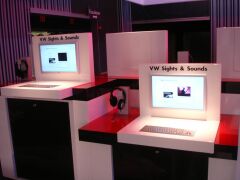 Stars in the Cars
Stars in the Cars
How much fun is it to get in an auto show car? A lot, if you can feel at home enough to sing, show your on-screen performance to the crowd, and email a Web video link that anyone can view almost instantly.
For the 2006-2007 international auto show circuit we developed an in car Karaoke system for Presentation Works, Exhibit Works and VW. In this system a big, two sided screen describes what's in store with an attract loop from UI. When new arrivals are detected in the car, the display switches to an instruction loop. That animation presents a menu of songs, and shows which radio button to push to play your choice. Immediately after a button is pressed, the selected audio plays in and outside the car, and the lyrics scroll on the display, beside the view from the interior camera with mic that captures everything you and your friends care to throw down.
The performance is encoded in real time, and plays on a preview station across the booth by the time you exit the car. At the preview station you're invited to enter a name and email address to receive a link to the VW branded site we built with graphic design by Crispin Porter + Bogusky. There you can see all the performances, and search for yours and others by venue, time and song. You can also vote for the ones you like the best, and share the YouTube link with everyone you want, where many performances went viral with 1000s of views.
Winner of the 2007 D Show Ambassador award for innovative uses of media and marketing, this integrated experience pioneered the automatic connection of live venues with social media.
Engaging web sites
Engaging web sites
A personality as big as Derek Jeter's can really drive traffic. When JWT Team Detroit highlighted his endorsement of Ford in their New York regional site, they wanted him to guide visitors through a tour of Ford products and features, challenge them with a host of games with baseball themed prizes, and enable fans to explore all of his current and past Ford spots, including the outtakes. A full complement of video, Flash animation and database management allows New Yorkers and others a taste of that city, and an encounter with the sports legend, while informing them of all the current products and promotions and enabling them to register their profile for futher notifications at Jetersfordchallenge.com.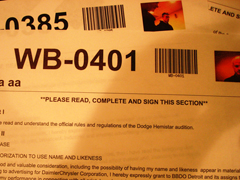 Event Boarding Pass
Event Boarding Pass
Print your own encoded ticket after Web registration
Live events can be linked to the Web with our Event Boarding Pass system. The combination of our Web database designs, and our on site bar code recognition allows participants to fill out registration information from the comfort of their home or office, then print the bar coded ticket they can bring to a live event. Their registration information is instantly recognized on site, and their attendence, or any further venue based updates can be applied to their account. The sytem even supports cell phone based registration.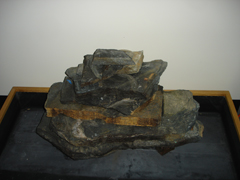 Text Waterfall
Text Waterfall
Say it, See it, and let it ripple
Speak into the microphone and see your words flow with a stream of water, tumble down a rocky path and bounce against the walls of the retaining pool. Wave your hand over a word and see a ripple and then a synonym spring from the word.
Mediascape first presented this display for an open house at the Universal Images facility. The speech recognition was especially accurate near the start of the open bar party but, for some reason, substituted some strange and surprising words in the much later hours of the event.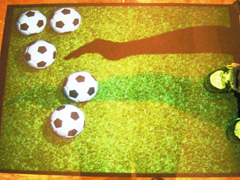 Touchless Interface
Touchless Interface
Touchless Interactive Applications
Novel and surprising effects are possible when a mere gesture or step is all that is needed to signal an interactive display. Everything from entertaining aesthetics to interactive kiosks can be driven by simply waving or stepping into a detected area. Groups of individuals can all interact at the same time with this method. External devices can even be controlled by touchless gestures or steps. A touchless interface is not subject to mechanical wear or hygienic hazards, and can be reached from distances that accommodate many participants at once.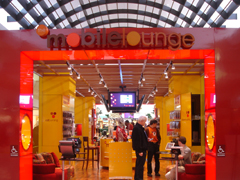 Digital Signage
Digital Signage
Our Digital Signage systems can distribute video and graphics, with high definition quality, to multiple remote locations. This content can be centrally managed and updated. For Mobile Lounge locations, by Presentation Works, and Exhibit Works we also included dynamic switches that present related content on nearby screens when select devices are lifted from their cradle.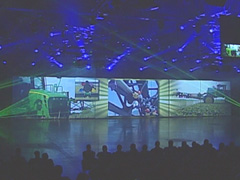 John Deere Dealers Meeting
John Deere Dealers Meeting
Dramatic, panoramic announcements
A 100 foot wide display with sliding panels for product reveals gave John Deere the drama they needed to showcase their new product roll out. Working with Universal Images, Mediascape produced High Definition encoded video, and provided on site support for the delivery of this highly choreographed, live announcement show.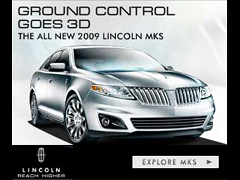 Rich Media Banner Ads
Rich Media Banner Ads
New Media is mainstream
New Media isn't new to us, but we continually keep it novel with new techniques and content. We help agencies explore all that the Internet has to offer, and find the most cost effective means to deliver engaging experiences in a precious few inches of space.
VW Music Bar
VW Music Bar
Podcasts and daily music updates
The 2005-2006 VW Music bar site served as both an event promotion Web site, and an on-site attraction, first at the Detroit NAIAS for Quill Communications, then at the New York auto show for Crispin Porter + Bogusky. In each instance the design featured a sampling of local musicians, with new performers revealed every day. Along with musicians, subscribers were provided interviews with VW product specialists and other VW enthusiast in daily audio and video podcasts, both before and during the show dates. The podcast reached the top 20 on the iTunes site as the Web site and the venue served to both entertain and inform their podcasting public.

Mobile Casting Studio
Mobile Casting Studio
The discovery of new talent doesn't have to take a flood of paper and photos, even when the search hits the road. We built this mobile auditioning studio for BBDO Detroit to take to various fairs, football games and auto shows in search of the raw talent who could become the new hemi guy.
The wireless network of laptops allowed applicants to just fill in the form, snap their head shot with the built in camera, print out their generated slate and wait for their close up. The casting director watched a database populate, including head shots, in real time as each application was submitted. They were able to view the candidate's information, and start their video interview within a few minutes of the application. The casting director was able to apply ratings and comments to the database as the video occurred, and the entire database, video and all, was available on the Web to additional producers who could contribute their ratings and comments. Since we also made the applicant database searchable, it may be possible for those who didn't get picked to be a perfect match for another role.
Carhartt
Carhartt
A retailer's CD guide to products and showroom design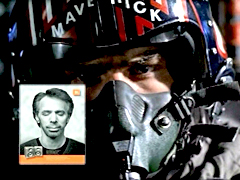 Harman Kardon
Harman Kardon
An example of one of our many menu driven videos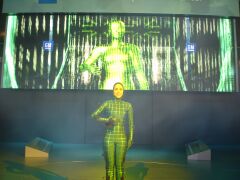 CAD Woman Live
CAD Woman Live
Motion captured animation, rendered and composited in real time
For the 2005 GM Theater at NAIAS, Mediascape, with Jack Morton Worldwide and RFG Productions, won the MCAI best of show award for the CADWoman presentation. It was the second consecutive best of show award for that team, since the previous year's award for a project at Epcot. We also won the gold awards in the categories of "External Communications" and "Live Events/Business Theater" with Universal Images, our Graphics and Editing partner on the project. Mediascape's primary role in this project was the development of the technology framework, which required a considerable amount of advanced software and hardware.
Beginning with the GM supplied LED wall, Mediascape worked with Jack Morton to explore the possible effects. The conclusion was reached to perform real time, wireless motion capture with a performer who, as CADWoman, would appear and interact in a virtual world. The virtual world would be comprised of pre-rendered elements, and real time representations of the performer. Live action footage with a pre-rendered version of the character would also be included.
The message and appearance of the show was developed by a collaborative team including Jack Morton, RFG Productions, Universal Images, Paul King and the GM client. In a whirlwind 2 month period, the scripts, styles and choreography were refined by Jack Morton, Paul King and others. Miles of live footage were shot on location by RFG Productions, hundreds of hours of animation design, rendering and editing were produced by Universal Images and audio mixes were developed by Gold Sound. Mediascape developed the custom show control software and hardware that enabled the capture and display of the performer's live motion, with virtual element interaction, while composited, with matching camera moves, into pre-rendered animated backgrounds.
As the show presented live theater in a virtual world, Mediascape also provided daily support for the equipment and performers who effectively walked a technical tight rope at a level of complexity that had never before been delivered live. In the end, as intended, all the technology was transparent to the audience who were transfixed by a seamless combination of live and animated narration that told the story of GM's alternative energy accomplishments.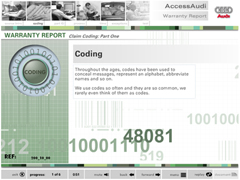 Standards compliant sites
Standards compliant sites
Industry standards, best practices and cross platform support
The Web is based on a patchwork of evolving standards from diverse organizations. Mediascape's years of Web development experience enables us to address the whole spectrum of Web standards. We produce SCORM based courseware compatable with any ADL certified LMS. We have produced sites complant with numerous standards including W3C, ADA, Section 508 and others, and address all levels of cross platform and browser version compatibility.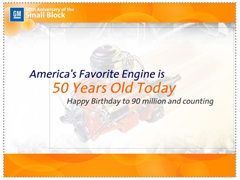 50th Small Block Anniversary
50th Small Block Anniversary
An animated retrospective of a classic
To commemorate the 50th birthday of the 1955 launch of Chevrolet's venerable Small Block engine, Jack Morton Worldwide worked with us to design a micro site that reviewed the origin and subsequent generations of this influential design.
We then generated emails with the site link to enthusiast organizations across the country on the day of its anniversary. Following the retrospective, visitors were directed to a blog that allowed them to share their knowledge and memories with the substantial community that has grown around this landmark product.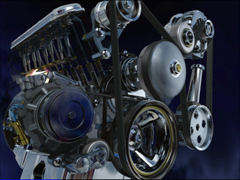 Epcot Dreamchasers
Epcot Dreamchasers
A 3D Stereo Tour of the Future
When the time came for GM to update its Dreamchasers ride at Epcot, R-Works and Jack Morton Worldwide worked with us to pump up the volume, resulting in this 2004 MCAI Best of Show and multiple gold winner.
The existing custom design, built in England, included an exotic seat with a motorized pivot, a shaker, stereo speakers, and a video headset to tell an immersive story. Since the headset had separate eyepieces, we found a way to send left and right images through the existing analog switcher for a true 3D stereo view. We worked with Jack Morton Worldwide, RFG Productions, and Universal Images to develop a story, then assembled specially recorded live footage and CGI animation into a full 3D stereo presentation. After developing the electro-mechanics for an off site working prototype, we developed new playback hardware, circuitry and software to send a full video frame to alternate eyes each 1/25th of a second. This produced a vivid 3D stereo image that appears in the headset as a 70″ screen at 13 ft. With Jim Mack, we then developed software to author and synchronize the motion of the chair, added custom video circuitry to integrate this highly precise video signal with the existing framework for transmission to the 20 seats, and then worked with Gold Sound to integrate their multi-channel sound design.
The video and the coordinated spinning and rumbling of the chair, with the enveloping sound track, now transports the rider through a fantasy tour of GM's future technology from the perspective of an endearing toy car that aspires to be full size.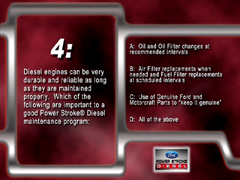 Powerstroke Diesel
Powerstroke Diesel
A highly interactive DVD that quizzes and keeps score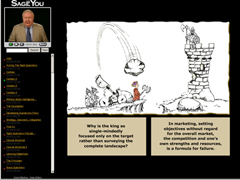 Sage and You
Sage and You
Media rich online training with e-Commerce
Shop on-line for expert advice in sales and marketing from Sage and You. Their publication site is database driven, where each new course supports previews and interviews with the author along with their descriptive information. The courses are rich with animated annotation supporting the expert speaker. Visitors can add all the courses they like to their shopping cart, perform an instant, certified secure, on-line credit card transaction, then have immediate access to their purchased courses.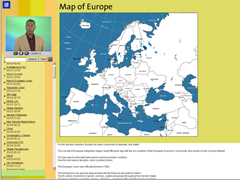 GMW3059
GMW3059
Mission critical, narrated video instantly worldwide
When MVP Collaborative wanted to deliver GM's latest environmentally hazardous materials guidelines to their worldwide suppliers, we developed a site that could make volumes of information accessible to the multi-lingual world. Additionally, we included a bulletin board for any questions that occurred that were not already addressed on the site.
The periodic site updates have been so thorough, and the media rich Webshow has educated so many suppliers over the span of its use, that the breadth of the problem has been reduced, and the site has been able to narrow its scope to fewer and fewer issues. The cost efficiency of Webshows now makes frequent updates of a multimedia presentation to a worldwide audience practical.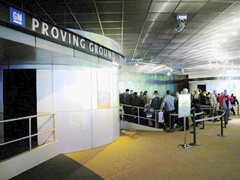 Immersive Theaters
Immersive Theaters
Domed cinemas fully consume your senses
For both the 2003 and 2004 GM Mezzanine at NAIAS, we provided two theaters, each allowing up to 25 viewers, for a unique immersive film presentation, developed by Jack Morton Worldwide and produced by RFG Productions, Universal Images and Mediascape.
Enclosed in structures built by The George P. Johnson Company, each of these domed theaters engulfed the viewers with a hemispherical screen using a special projection system and surround sound. Mediascape also developed the high resolution playback system for this very vivid imagery. The stunning camera work, intricate edits and CGI of this fast paced film were nearly overwhelming to view. Hand rails, ushers and automated lighting were helpful to viewers leaving the presentation.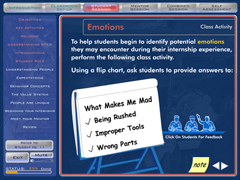 AYES
AYES
A narrated and interactive CD to train the trainers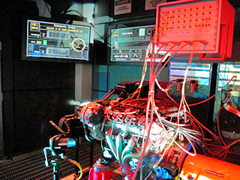 Dynamometer Test Lab
Dynamometer Test Lab
For GM's 2003 and 2004 Auto shows, under Jack Morton Worldwide's direction, and produced by John King, we developed the show control for a life like simulation of a Corvette LS6 engine, including animations showing various engine performance parameters, dramatic lighting sequences, synchronized audio with floor vibration, moving engine parts, narrator's remote control, and everything else necessary to portray realistic engine Dynamometer tests without actually burning fuel. The demonstration was authentic enough to prompt questions like "where does the exhaust go?", from convinced viewers.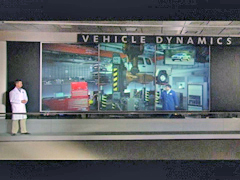 3D Stereo Virtual 4-Post
3D Stereo Virtual 4-Post
It is much lighter to display a video of the massive equipment found at the GM Proving Grounds, but the power and impact of the real installation has to be included. To convey this for Jack Morton Worldwide at the GM 2004 NAIAS Mezzanine, we worked with RFG Productions and Universal Images to produce and display one of the first HD 3D Stereo videos. Labs have measured that the galvanic skin response–a change in the skin's ability to conduct electricity, following an emotional stimulus like surprise–rises with 3D viewing. We delivered that 3D experience in an 18 ft. wide polarized HD display, within the confines of a 10 ft. deep chamber. It even included show cued effects like wind, mist and floor bumps. Audience members frequently ducked and weaved to avoid the objects seeming to leap from the screen.
Vehicle Dynamics Test Lab
Vehicle Dynamics Test Lab
Shake rattle and roll
Also for GM's 2003 NAIAS Mezzanine Jack Morton Worldwide developed a full scale, live demonstration of the "4 Post" Vehicle Dynamics Laboratory, where a car's suspension is hammered by independent hydraulic shafts to simulate long term suspension wear. To portray this, the actual hydraulics and controller were installed by H.B. Stubbs and Schenck Pegasus, including 80,000 lbs of counterbalancing inertial weight. We then provided software to launch a barrage of authentic suspension exercises, (that were slightly scaled back to prevent risk to the building), along with audio, video, lighting, corresponding animated graphics, floor vibrations, and more to support a complete narrated performance.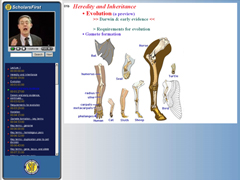 ScholarsFirst
ScholarsFirst
The pioneer in distance learning, ScholarsFirst began in 1998 with an illustrious panel of Ivy League and Nobel prize winning professors. To support the far reaching purpose of this site to deliver high quality AP courses in a classroom like experience, Mediascape developed a full repertoire of media delivery and database management services. These features enabled the delivery of archived lectures with synchronized graphics, including interactive simulations, and live webcasts of question and answer sessions with cued graphics and a shared white board, along with many other messaging tools including bulletin boards and a private email system, and an administrative hierarchy supporting student enrollment, scheduled testing, transcript management and more.
This site remains one of the fullest implementations of media rich, performance tracked, distance learning, and serves as a portal to some of the highest quality AP courses available on the Web.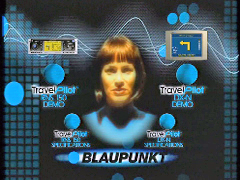 Blaupunkt
Blaupunkt
Animated menus with smoothly integrated videos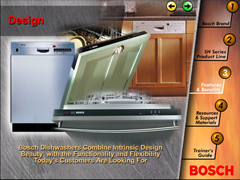 Bosch Product Training
Bosch Product Training
A narrated CD with menus for employee training
When the heritage, mission and product line of the Bosch company needed to be communicated to new employees, Presentation Associates worked with us to design a CD with a fluid and nimble interface that matched the sleek cues of the Bosch products. This interface provided sequential and dynamic access to all the narration and animation needed to tell their story and the in-depth details of their products.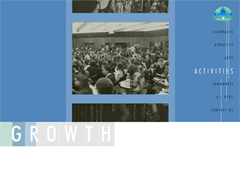 Royal Oak Schools
Royal Oak Schools
A persuasive CD for a school of choice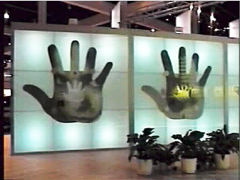 Interactive Hand Wall
Interactive Hand Wall
You make a difference
For Ford's 2001 Auto show in Los Angeles, Presentation Works promoted the theme of Ford's responsiveness to customers. We implemented their design of 5 hand shaped touch screen walls. These touch screens allowed attendees to shape the exhibit in various ways. One screen showed a camera view that allowed the viewer to touch and manipulate their live image. Another provided an elegant interface that controlled the color of the exhibit's lighting. Another provided an interface that enabled original combinations of instruments to be mixed, with visualizers, while playing live in the exhibit. Additional forms of interaction allowed the individual various ways to make a difference in the exhibit.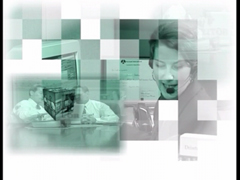 DVD Authoring
DVD Authoring
Full feature, menu driven DVD authoring.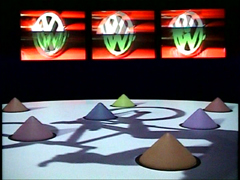 Cones and Shadows
Cones and Shadows
Curiously Subtle
For VW's 1999 auto show Presentation Works wanted an artistic display that would present VW product themes in a way that invited exploration. To accomplish this we developed a touch sensitive set of cones that were mounted on a round table. When idle, a simulated shadow of the cones appeared that would unexpectedly wobble or spin. When a cone was touched, a whimsical video, or one related to VW owner lifestyles would animate on the table. When cones were touched in certain sequences, animations originating from each cone would join together. The numerous available permutations prompted many attendees to explore them all.
Contact
3800 W. 11 Mile
Suite 200
Berkley, MI 48072
P.O. Box 2713
Birmingham, MI 48012
Phone: 248-945-1100
Email: hello AT mediascape.com